Description
Muttluks Woof Walkers Dog Boots - For Teacup to Big Dogs
Woof walkers are a mid-range dog boot created to satisfy today's demand for a step above in quality without the frills. Flexible soles are pawsitively comfortable and adaptive to paw shape and movement.
Features:
Self-tightening fastening provides a secure fit
Flexible lighter duty leather soles and water resistant nylon upper provides comfort and flexibility
Comfortable stretchy leg cuff
Reusable mesh bag packaging
Protects paws from snow, ice, heat and dirt
Protects injured and sensitive paws
Machine wash - Retreat leather soles after each wash
4 Boots per package. Available in Black, Blue and Burgundy, in 7 sizes, to fit most dogs.
4 Boots per package
CLICK ON THE VIDEO TAB ABOVE FOR HOW TO MEASURE
Made in Canada
SIZE CHART
HOW TO MEASURE: Place a piece of paper on the floor. Put your dogs foot on the paper, Make a dot on the front and back of the foot. Front, Back (at an angle). Include the toe nails. Take their foot off, give them a back or tummy rub. Measure the distance between the dots.
Woof Walkers, Hott Doggers and Muttluks

Suggest Breeds listed, however, each breed can run smaller or larger

Inches
SIZE
CM
0-1

X ITTY BITTY (Hot Doggers ONLY)

Dogs under 5 lbs

0-2.5
1-1.5

ITTY BITTY

Chihuahua, Toy Poodle, Yorkie

2.5-3.8
1.5-2.25

XXSMALL

Jack Russel, Lhasa Apso, Pug, Min Dachshund, Min Poodle, Min Schnauzer, French Bulldog

3.8-5.2
2.25-2.75

XSMALL

Sheltie, Min Schnauzer, Whippet, Fox Terrier, Bichon Frise

5.2-7
2.75-3.25

SMALL

Beagle, Border Collie, Pit Bull

7-8.2
3.25-3.75

MEDIUM

Doberman, Labrador, Boxer, Husky, Pointer, Std Poodle, Schnauzer

8.25-9.5
3.75-4.25

LARGE

German Shepherd, Retriever, Afghan, Borzoi

9.5-10.8
4.25-4.75

XLARGE

Akita, Old English Sheepdog, St Bernard, Newfoundlander, Pyrenees

10.8-12.1
4.75-5.25

2XL

Great Dane

12.1-14
Sizing Tips:
Choose the size which fits the dogs entire paw, including toe nails. A snug fit is best. Boots that are too large may slip off.

Putting boots on your dog:

Your dog will best acclimatize to boots and shoes outdoors so be ready to go outside immediately, then:

• Open the Velcro strap fastener
• Stand over the dog and slip Muttluks on from behind the dog
• Bunch up the cuff and pull the Muttluk over the paw
• Hold the dog's elbow with one hand and wiggle boot on with the other hand
• Pull Velcro strap TIGHTLY around the boot and press shut
• Cut-off any excess strap, if desired
• Take your dog outside and enjoy!

Suggested Boots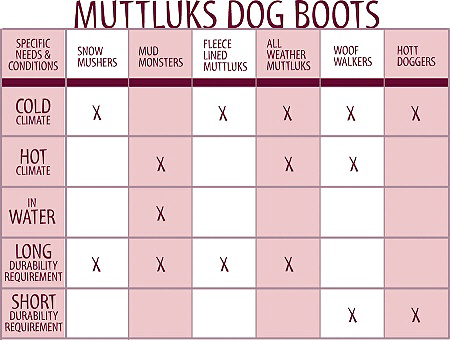 View All
Close