Description
Halloween Dog Costume - Taco

Aye Chihuahua! For a full-flavored and spicy Dog Costume order a Dog Taco for Halloween with extra hot sauce! This adorable and hilarious costume is great for any time you want some instant fun! Comfortable and cute as a button, your dog will love wagging his taco-ed tail for everyone he meets! Great for Cinco de Mayo celebrations!
Features Velcro fastener on the chest and belly for a proper fit.
Available in sizes 0 - 6
Not all sizes are available in the sizes stated on the size chart.
MADE IN THAILAND
Designed for teacup and small dogs
PLEASE MEASURE!
Costumes can only be returned for a store credit. We do not refund return postage. Returns are not accepted after Oct 20th. Please contact us if you need assistance in sizing.

PLEASE ORDER EARLY TO ENSURE DELIVERY ON TIME. Please order by Oct 24th. Please call us if your order is after the 24th.

Please take the time to measure! We want your order to fit when you receive it. The Chest Girth is the 1st most important measurement.
Click the SIZE CHART Tab above for the size chart.
SIZE CHART
HOW TO MEASURE
We suggest using a cloth measuring tape. If you don't have one available, you can use a ribbon, string or piece of yarn, mark it then lay it on a yard stick.
The Largest portion of the chest is directly behind the front legs, make sure your dog is standing. Start at the back, bring the measuring tape directly behind the front legs, all the way under, around and back to the beginning. If your pup has a lot of fur, we suggest you go up a size. Allow for some shrinkage.
While your dog is standing, measure their length from the base of the neck to the rump, do not include the tail. The the neck, the neck is usually not an issue unless your dog has an unusually large neck. Don't forget the belly rub!
Size
Neck
Length
Girth
0
5.5 - 6.75 inches
7.25 inches
9.25 - 10.75 inches
1
6.5 - 7.5 inches
8 inches
10.5 - 12 inches
2
7.5 - 8.75 inches
9.25 inches
12 - 14 inches
3
8.75 - 10.5 inches
10.75 inches
14 - 16 inches
4
10.5 - 12 inches
12.5 inches
16 -18.5 inches
5
12 - 13.5 inches
14 inches
18.5 - 20.5 inches
6
13.25 - 15.25 inches
16 inches
20.5 - 23.25 inches
HOW TO MEASURE
How to Measure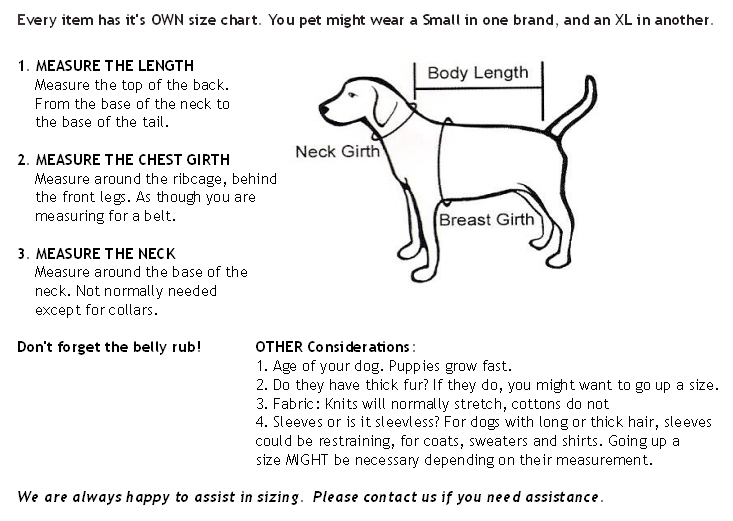 View All
Close